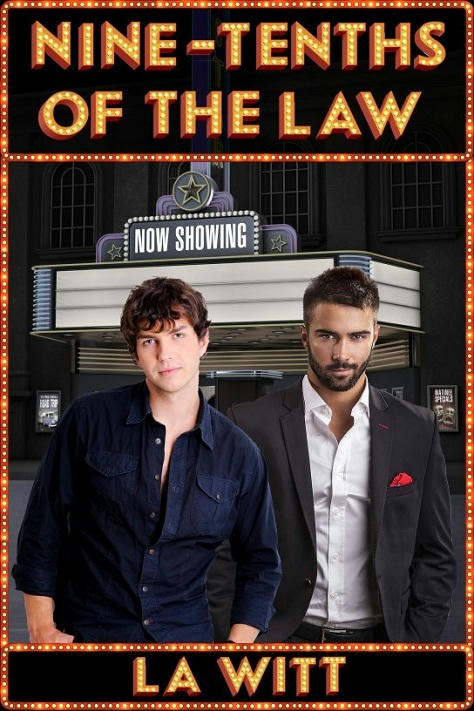 Title: Nine-Tenths of the Law
Author: L.A. Witt
Genre: Contemporary
Length: Novel (250pgs)
ISBN: B06XNTJZ28
Publisher: L.A. Witt (15th March 2017)
Heat Level: Explicit
Heart Rating: ♥♥♥♥ 4 Hearts
Reviewer: Pixie
Blurb: "I believe you have something of mine, Zach." The stranger's accusation throws Zach Owens for a loop. He's never seen this man in his life, and he's not prepared when he finds out what they have in common—their boyfriend, Jake. Make that ex-boyfriend. With the jerk out of the picture, Zach hurries after the stranger to apologize… which quickly leads to some sizzling hot revenge sex. Despite starting on the wrong foot, Nathan Forrester can't get enough of the sexy movie theater owner. Still, he's jaded and distrustful—especially when Jake keeps materializing in Zach's presence despite Zach insisting that relationship is over. With a devious ex-boyfriend trying to sabotage their fledgling relationship, Zach and Nathan need to learn to trust each other, or they'll both wind up with nothing. This 61,000 word novel was previously published, and has been revised to include an extended ending.
Purchase Link: https://www.amazon.co.uk/Nine-tenths-Law-L-Witt-ebook/dp/B06XNTJZ28
Review: Zach's night looks to be a disaster when he is confronted by his boyfriends other boyfriend, leaving his now ex-boyfriend behind he hurries after the stranger and Zach's night suddenly looks up with a hot bout of revenge sex. Nathan is bitter about his ex's betrayal but he can't get Zach out of his mind, and they embark on a rebound fling… but it soon gets more serious between them.
This is a great story of finding love in an emotional turbulent time, where love is developing but lack of trust is rearing its ugly head.
Nathan and Zach in a fleeting moment are rivals, they both are seeing the same man, Jake, Nathan for four years and Zach for six months before they both discover the truth and they both walk away from the man who betrayed them. Nathan has a hard time letting go of the broken trust and as he begins a relationship with Zach he finds it difficult to believe Zach when he says he's working late… especially when Jake is feeding his fears.
I liked this story and enjoyed watching as Nathan and Jake both embarked on a relationship together, they were a hot couple and meshed well together when they are together. When they are apart though Nathan's fears of betrayal claw at him and it leads him to some stupid arguments with Zach. Zach is pretty easy going for the most part, he's bounced back from Jake's betrayal and now just wishes the pain in the arse would stop bothering him and that Nathan would trust him 100%.
Whilst I enjoyed the story I do think Zach could be a little bit more understanding of Nathan's feelings, it's really not easy to trust when it's been shattered and unfortunately it usually does carry over into the next relationship, especially when your ex is feeding that paranoia. I also got a little annoyed at Zach for continuing to play to Jake's tune by answering the man's phone calls and agreeing to see him… he should have just cut off all contact.
So there's a relationship developing, some angst and drama, and lots and lots of hot sex, the storyline is good and the characters are great, so really what more could you ask for?